iOption Review
---
iOption Review
iOption is a global privately held Group of companies headquartered in The British Virgin Islands and in Cyprus.
The company is managed by veteran professionals from the gaming, financial risk management and internet industries. iOption™ Ltd, began as a small local broker and has expanded to a multi office international trading brokerage with just a short time.
iOption™ provides a professional, efficient and user friendly platform for trading binary options (also known as digital options). Our platform allows investors of all profiles ranging from amateurs to professional investors and institutions to trade binary options in real time. No previous trading experience is required.
---
Promotions & Benefits
3 Months Free Experts
Just make a minimum deposit of $100
Great Payouts
Payouts range from 70% to over 400%
Financial Security
Security, Saftey, and Privacy are protected
iOption Acadamy
Exclusive Training Videos
Advanced Trading Tools
Signals, Alerts, Daily Asset Reviews, & more
Multiple Trading Choices
Various methods of trading including call/put
---
Tradeable Assets
Currencies
AUD/CHF, AUD/JPY, AUD/NZD, AUD/USD, CHF/JPY, EUR/AUD, EUR/GBP, EUR/JPY, EUR/USD, GBP/CAD, GBP/CHF, GBP/JPY, GBP/USD, NZD/JPY, NZD/USD, USD/BRL, USD/CAD, USD/CHF, USD/INR, USD/JPY, USD/RUB, USD/SGD, USD/TRY, USD/ZAR
Stocks
AIG, ALCOA, ALPHA BANK, AMAZON, ANZ BANK, APPLE (US), ARABIAN PIPES COMP, AXIS BANK, BANCO SANTANDER, BARCLAYS, BHP BILLITON, BHP-AU, BIDU, BNP PARIBAS, BP (BRITISH PETROLEUM), BRITISH AMERICAN T, CATERPILLAR, CITI ( US - CITIGROUP), COCA COLA (US), COCA COLA.AT, DANONE SA, DEUTSCHE TELECOM, DISNEY, EBAY, EXXON MOBIL, FIAT, FRANCE TELECOM, GAZPROM (RUSSIA), GENERAL MOTORS, GOLDMAN SACHS, GOOGLE (US), GROUPON, HSBC HOLDINGS (LONDON), IBM, JP MORGAN CHASE, LAS VEGAS SANDS, LINKEDIN, LOUIS VUITTON, MASTERCARD, McDonald's, MICROSOFT, NETFLIX, PETROBRAS, PUBLICIS GROUP, RIO TINTO, RIO-AU, S.BANK INDIA, SAB MILLER, SAUDI REFINERIES, SBERBANK (RUSSIA), STARBUCKS, STRAITS TIMES, TATA MOTORS, TATA MOTORS (INDIA), TATA STEEL, TELEFONICA, TESCO, TEVA PHARMA, TOPIX, TOTAL S.A, TOYOTA US, UBS, UNILEVER, VIVENDI SA, VODAFONE, WYNN RESORTS
Commodities
Coffee, GOLD, OIL (LIGHT SWEET CRUDE), PLATINUM, SILVER, Sugar, WHEAT
Stock Indices
ASX (AUSTRALIA), ASX FUTURE, BOMBAY SE, BOVESPA, CAC (FRANCE), CAC FUTURE, DAX (GERMANY), DAX FUTURE, DOW ( US - DOW JONES INDUSTRIAL AVERAGE), DUBAI (DUBAI FINANCIAL MARKET GENERAL INDEX), FTSE 100 (U.K), FTSE FUTURE, HANG SENG (HONG KONG), IBEX, IMKB 30, ISE 100, ISE 30 (ISTANBUL STOCK EXCHANGE), KL FUTURE, KUWAIT (KUWAIT GENERAL INDEX), MICEX10, NASDAQ (US), NASDAQ FUTURE (US - NASDAQ 100 FUTURE), NIFTY, NIFTY FUTURE, NIKKEI 225, RTS (RUSSIAN TRADING SYTEM), RTS FUTURE, S&P 500 (US), S&P FUTURE (US S&P 500 FUTURE), SSE180 (SHANGHAI STOCK EXCHANGE), STRAITS TIMES, TADWUL (SAUDI STOCK EXCHANGE), TEL AVIV 25, TOPIX
---
Support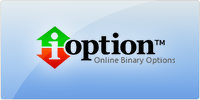 Live Chat: Yes
Email Support: Yes
Phone Support: Yes
---
Final Word
iOption is the perfect binary options broker for new traders and experienced ones alike. Their 3-step order placement is as quick and easy as it gets without sacrificing professionalism in any way. iOption is one of our top recommended brokers.