Binary Options

Expert Advice
Upgrade to Gold
Expert Trade Alerts
Submitted by lsf273 on Tue, 04/22/2014 - 18:05
USD/JPY
| | | | |
| --- | --- | --- | --- |
| Support | 102 | 101.71 | 101.35 |
| Resistance | 0 | 102.74 | 103.40 |
The yen opened flat against the Dollar after weakening on Monday followed data showed a wider than expected trade deficit for March and disappointing export...
Submitted by lsf273 on Tue, 04/22/2014 - 17:38

Can AEM Make a Comeback?
AEM saw a a big drop in their shares last session when they fell 9.0% by the end of the day. This led to many shares being traded faster than normal. This continues the downtrend for AEM with their stock down 17.3% in the past month.
While this down-turn was very disappointing for the company, AEM has seen 4 positive revisions and their current earning have gone up over the last few weeks. This makes many believe that the recent downturn will only be temporary. We would advise you to keep your eye on AEM stock in the near future to see if the decline is confirmed by more weakness, or if it can make a turn around.
Some better ranked stocks would include AngloGold, Ashanti Ltd., Lake Shore Gold Corp and Rangold Resources Limited. Each of these companies has a Zachs Rank #1 (Strong Buy, while AEM currently holds a Zachs Rank #3.
Submitted by caseyb23 on Tue, 04/22/2014 - 06:48
Binary Options

Expert Advice
Upgrade to Gold
Expert Trade Alerts
Submitted by lsf273 on Mon, 04/21/2014 - 19:35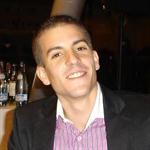 Meet Malsolo (Julio Fernandez)
Malsolo is a low risk trader from Spain that has been very successul on eToro. He is one of the most copied and successful traders on the eToro network. What you may not know about Malsolo is that he started with a beginning bankroll from BestForexTeam!
A Gorgeous Equity Curve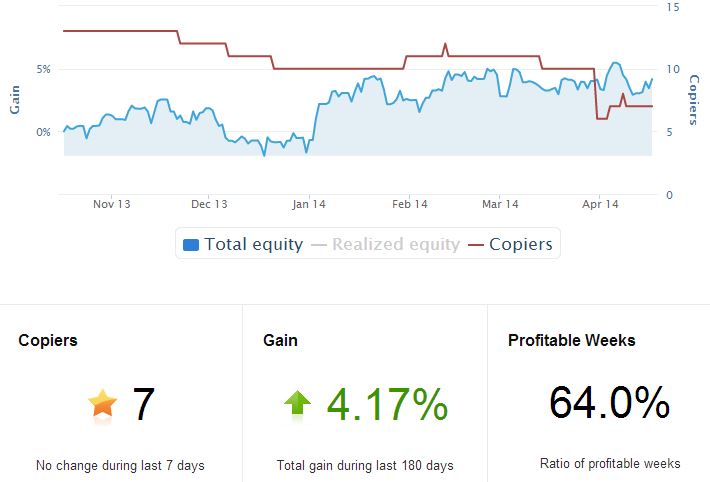 With the initial capital from BestForexTeam!, Malsolo was able to make a career out of trading. During the last few months, Malsolo has followed our system to profit hundreds and hundreds of dollars, with just a few minutes per month of following our rules and guidelines.
An Amazing Winning Percentage

Over Malsolo's last 217 closed trades he has only lost one trade! This has given him a coveted 99.5% winning percentage. We encourage you to follow Malsolo's lead and take your no risk starting bankroll of up to $500 with BestForexTeam.com! We pay you to learn our 100% completely automated trading system, giving you a chance to make the same exact trades as the pros and share in all the profits. Get started now!
Learn More Now »
Submitted by lsf273 on Mon, 04/21/2014 - 19:07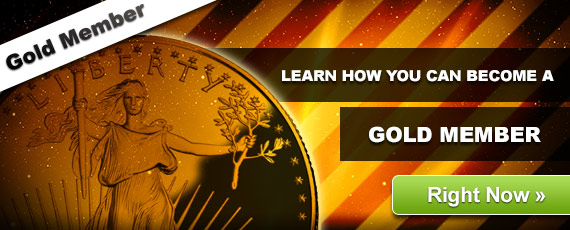 In this case, it's ok to be a copycat!
At IntelliTraders we offer our traders one free trade alert per day. This means we give you alerts on what trades are most likely to win. You can think of these a freebies!
One free trade is definitely nice, but wouldn't it be better to get an expert traders advice every time you went to trade? Well thankfully, you can get expert trade alerts for becoming a GOLD member. This makes your chance of gaining profits dramatically increase.
Being a GOLD Member practically takes the risk out of trading!
Upgrade to Gold!
Submitted by lsf273 on Mon, 04/21/2014 - 19:05
US Stock Market (Dow Jones)
US indices finished Thursday's trading mixed with the NASDAQ adding 0.04% to its value, the Dow Jones falling by 0.10%, and the S&P rising by 0.14%. Technically, the Dow Jones has failed to breach the resistance...
Submitted by lsf273 on Mon, 04/21/2014 - 18:56

Give a warm welcome to Frank Lorenz
There are many traders in the world today who are doing very well for themselves. Frank Lorenz, or lorenzfrank1 is definitely one of these traders! He owes his success primarily to IntelliTraders. The good people at Intellitraders gave Hugo a beginning bankroll to trade with on eToro to help start his career.
Over the last 6 months on eToro Frank has gained 623% and has won 1507 out of 1571 trades. That's impressive! It's nice to see an investment payoff and for one of our traders to become one of the most copied traders on eToro! We look forward to his continued success on eToro and are looking for our next investment. We think that it could be you! Click the link below and learn how you can take the first step to becoming a successful trader.
View Frank's Profile »
Submitted by lsf273 on Mon, 04/21/2014 - 18:43

Interactive Option Summary
Interactive Option has a highly skilled staff with a combined experience of over 200 years in the finance sector. They offer the best tools and services to help their traders become more successful. Some of these services include a top of the line education center complete with webinars and daily market reviews as well as 1 on 1 help. Interactive Option provides everything you'll need to succeed!
Broker Features
1 0n 1 Training
Risk Free Trades
Webinars
30 Second Trading, 60 Second Trading, 5 Minutes Trading, 20 Minutes Trading
The staff at Interactive Option believes in full transparency. They don't bet against their clients and don't fake any numbers! They believe in pure Trading! Due to their high standards, Interative Option is one of the world leaders in online Binary Option Trading. As so, you and all brands of K.J.W Krisworld have the guarantee that the company systematically brings together the most stringent standards in terms of protection of funds.
Create Interative Option Account »
Submitted by lsf273 on Mon, 04/21/2014 - 18:41
You are allowed to copy up to 5 traders on your eToro CopyTrader account. We have done the dirty work for you. Below you will find a healthy mix of traders with a wide variety of risk tolerance, leverage usage, trading frequency, and returns. We recommend picking 5 of these traders to follow for the next month for your portfolio:
---
High Risk / High Reward
| | |
| --- | --- |
| 1 | After over 64% in returns in March, we are keeping him as an anchor in our March team! |

| | |
| --- | --- |
| 2 | Domyf92 is the definition of high risk - buckle up and be prepared to experience wild swings in your account balance. Could pay off big! |

| | |
| --- | --- |
| 3 | Wizardluiz stays despite his very small downturn in March. If he's in your portfolio, wait his trades out. |
Medium Risk / Medium Reward
Low Risk / Low Reward
| | |
| --- | --- |
| 1 | Despite the minimal downturn last month, Malsolo has proven that his trades profit over the long term. Consider him! |

| | |
| --- | --- |
| 2 | With over 26% in profits from taetae3751 in March, he will be a huge peice of our low risk team going forward. |

| | |
| --- | --- |
| 3 | Caraj51 did what Caraj51 does - made solid profits with very little downside risk. He stays. |
About Intellitraders.com
We have one objective... to teach you how to make money trading.
IntelliTraders is not a get-rich-quick trading system. We are a trading community of traders helping traders.
It's time to take advantage of the lucrative world of online trading. Go ahead, JOIN NOW ... it's 100% FREE!
Resources
Resources
Affiliate Program (coming soon)
White Labels (coming soon)
Copyright 2006-2013 IntelliTraders. All Rights Reserved.
Terms & Conditions | Privacy Policy
IntelliTraders does not accept any liability for loss or damage as a result of reliance on the information contained within this website; this includes education material, price quotes and charts, and analysis. Please be aware of the risks associated with trading the financial markets; never invest more money than you can risk losing. The risks involved in trading binary options are high and may not be suitable for all investors. IntelliTraders doesn't retain responsibility for any trading losses you might face as a result of using the data hosted on this site. Some Binary Options Companies are not regulated within the United States with regulatory agencies. The IntelliTraders Network is educational material and not trading advice. Trade at your own risk.