Enter Details
Enter your EMAIL you chose when creating your Cedar Finance account.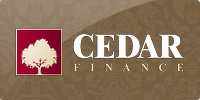 Available in the USA
Broker Type: Binary Options
Deposit Options:
Credit Card, MoneyBookers, Bank Wire, Western Union
Minimum Deposit: $200
Maximum Deposit: $50,000
Deposit Bonus: 75% up to $3,000
Exclusive Cedar Finance Benefits
We are proud to offer all IntelliTraders the following benefits...
100% First Deposit Bonus
50% 2nd Deposit Bonus
1 Free Trade Risk Free
Free iPad on $5k Deposit
Create Cedar Finance Account Now »
---
Cedar Finance Review
Cedar Finance is a quality focused binary options broker providing a terrific experience for its traders. The whole philosophy behind the company geared to producing an offering that is it in tune with the every want and desire of the binary option trading market. As such, a lot of time and expense went into designing the experience and developing the user interface; time and expense that is very well invested.
The company offers some of the most beneficial bonuses available in the market. With deposits for new traders attracting up to 75% bonuses, it is possible to instantly increase one's bankroll. Beginning to trade requires just a $200 initial outlay and following this traders gain access to well over 80 assets spread across commodities, stocks, indices, and currencies.
Cedar Fiannce is committed to continuous improvement. They are consistently expanding the deposit options, the asset range, the innovative trade features, and improving the user experience. This is certainly a company that listens to its trading community, and one that is set to continue to attract beginner traders and experienced traders alike.
Perhaps the best thing about the platform or traders is the high payouts. Standard binaries attract up to81% payouts and weeklong touch trades can generate 500% profits.
---
Broker Summary
Cedar Finance is a broker platform that ticks all the boxes of what a trader-friendly set up should look like. As they continue to improve they are attracting new traders from
around the globe. The platfrom is now available in English, French and German, with more languages coming soon.
The company has won widespread recognition since its launch. Five star reviews and best trade platform awards have given the company significant media presence; success that they certainly deserve.
Cedar Finance is a comfortable, transparent and profitable place to generate significant binary options trading success.
---
Tradeable Assets
Cedar Finance supports the following Tradeable Assets:
Currencies
NZD/USD, USD/CHF, USD/ZAR, USD/SGD, AUD/USD, USD/EGP, USD/RUB, USD/BRL, USD/TRY, EUR/GBP, EUR/JPY, USD/CAD, USD/JPY, GBP/USD, EUR/USD
Stocks
HITACHI, NISSAN MOTOR, AMAZON, BARCLAYS, BIDU, BRITISH AMERICAN T, FIAT, FRANCE TELECOM, GOLDMAN SACHS, IBM, PETROBRAS, S.BANK INDIA, SAB MILLER, TESCO, BNP PARIBAS, TEVA PHARMA, TOSHIBA CO, TURKCELL (TURKEY), TATA MOTORS (INDIA), REUTERS (US THOMSON REUTERS), BAE SYSTEMS (UK), ROLLS ROYCE (UK), HSBC HOLDINGS (UK), COCA COLA (USA), SBERBANK (RUSSIA), LUKOIL (RUSSIA), GOOGLE (USA), BP (BRITISH PETROLEUM), GAZPROM (RUSSIA), NIKE (USA), APPLE (USA), MICROSOFT (USA)
Commodities
ASX (AUSTRALIA), WHEAT, COFFEE, SUGAR, GOLD, SILVER, PLATINUM, CITIGROUP (USA), OIL (LIGHT SWEET CRUDE)
Stock Indices
IBEX, NIFTY, NIKKEI 225, TEL AVIV 25, TOPIX, KL FUTURE, STRAITS TIMES, NASDAQ FUTURE (USA - NASDAQ 100 FUTURE), S&P FUTURE (USA S&P 500 FUTURE), SSE180 (SHANGHAI STOCK EXCHANGE), HANG SENG (HONG KONG), BOMBAY SE, KUWAIT (KUWAIT GENERAL INDEX), DUBAI (DUBAI FINANCIAL MARKET GENERAL INDEX), QATAR (DSM20), EGX 30 (EGYPT), TADWUL (SAUDI STOCK EXCHANGE), MSM 30 (OMAN), RTS (RUSSIAN TRADING SYTEM), MICEX 10 (MOSCOW INTERBANK EXCHANGE), ISE 30 (ISTANBUL STOCK EXCHANGE), FTSE 100 (UK), CAC (FRANCE), DAX (GERMANY), NASDAQ (USA), S&P 500 (USA), DOW ( USA - DOW JONES INDUSTRIAL AVERAGE)
---
Exclusive Promotions
100% First Deposit Bonus
50% 2nd Deposit Bonus
1 Free Trade Risk Free
Free iPad on $5k Deposit
Monthly Raffle for iPad
(All Depositors that month)
30% Bonus
Bronze Account ($200-999)
50% Bonus
Silver Account ($1000-4999)
75% Bonus
Gold Account ($5000-9999)
---
Support
Live Chat: Yes
Email Support: Yes
Phone Support: Yes
---
---
Enter Details
Enter your EMAIL you chose when creating your Cedar Finance account.