TopOption Review and Analysis
Submitted by adil on Thu, 12/12/2013 - 12:57
Tagged as: Binary Options Trading , Binary Options
---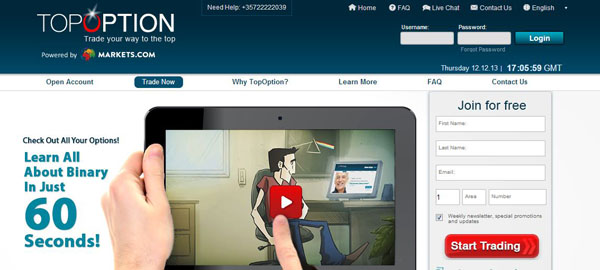 TopOption is one of the most rapidly growing Binary Option Marketing company that has really garnered popularity recently, especially among the European traders. The main reasons of company's success are new licensing and registration in Europe. Top Option is quickly replacing other websites as the leader of the binary option marketing. It has been pioneered by the Markets.com and is providing the same quality of services to the users for which its Forex trading counterpart from the Markets.com is famous. Top Option is a great choice for anyone trading outside of the United States as it has closed its operations for the traders in the USA. The Top Option is offering very competitive payout up to 300% and 85% on special features and winning trades on regular Binary Options respectively.
Some Important Features of Topaction:
Some of the most important features of the Top Option are as following.
Pair Option Trading:
Pair Option Trading is perhaps the best feature of Top Option. The pair option trading is relatively different from traditional binary option trading. This particular type of trading allows or enables the user to monitor the performance of one asset in comparison to that of the correlating asset. In pair option trading, the users can take back profits up to massive 300-500% and therefore, it offers higher profit potential than binary options. Apart from the pair options, the Top Option also offers some of the important features offered by other services such as one Touch and Optional Pro, 60 seconds Trading and Option Builder. Another great benefit of using Top Option is its wide array of features making binary trading extremely simply for you.
Withdrawals:
When it comes to withdrawals, the TopOption clearly leaves its competitors behind. You can expect up to 4 days for transactions through wire transfer and up to 24-48 hours for withdrawals through credit cards. You need to have minimum of $100 in your account to execute the withdrawal request. However in order to fund the amount, you need to fax or email the proof of identification according to the registration form just like any other binary options providers. Similarly, you need to verify your account registration that is a standard one for the first withdrawal. Apart from the free first withdrawal in every month, you have to pay $25 or Euros as processing fee for every other withdrawal in the month.
Bonuses, Incentives and Starting Deposits:
Most of the binary option brokers require you to deposit an average of $250 or euros as starting fee but you can start your business with only $100 with Top Option. However, you need to pay at least 250 Euros extra if you want to enjoy other incentives and receive training as well. Users can in fact cover all global markets as they can trade over 170 assets. Users will also get a PRO Account as bonus and additional four hours of training if he deposits minimum of 1000 Euros. However, if the user deposits minimum of 500 Euro, he will receive a VIP account and unlimited hours of training.
Conclusion:
TopOption.com is one of the only few brokers with full registration and license to work in Europe. The best reason to sign up with this broker is the low starting minimum. Furthermore, Top Option boasts years of experience, trustworthiness and track record as it is the subsidiary of Markets.com. Finally, it can rightly be said that users can rest assure that they will get their money back in the shape of profits from Top Option.