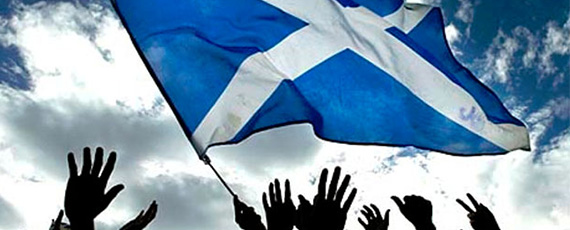 10 Things to Know About the Scottish Referendum
Today, Scotland will vote for independence from the UK.
The Pound Sterling (GBP) might experience unprecedented extreme volatility.
Some analysts predict that the GBP could move as much as hundreds of pips!! If you hold any positions on the following pairs: GBPUSD, EURGBP and GBPJPY, your position could be at risk as you may not have the time to adjust the Stop Loss and maintain margin.
As this is an ongoing event and not a scheduled event (for example, as the NFP), rumors and polls will cause major gaps for the remainder of the trading week.
There could be significant market gaps as the markets could move faster than usual. You could lose more than your initial investment and your remaining account balance might be significantly reduced.
In cases of extreme volatility, spreads on the GBP will likely widen and due to limited liquidity, trading might not be available at certain times.
If you do choose to trade during this event, be aware that there could be significant price movements and trades could open at a different rate. The same applies to pending market orders.
Please note that during this unprecedented event, we will limit the use of leverage for all GBP pairs to 1:50.
The effect of the event could have an impact on the entire market all currency pairs/indices/commodities could be affected.
Be aware, some of the effects mentioned above may affect the UK100 index (FTSE)
What's planned for today?
Today, a referendum held in Scotland will determine whether Scotland remains part of the United Kingdom or becomes independent for the first time in 307 years. This is a major geopolitical event with worldwide ramifications. Among other effects, this could have a major impact on the FX markets. The effects could be in magnitudes bigger than we have ever seen
How big can this event be?
It's very hard to determine how much the markets will move. But we need to be prepared to see movements of potentially hundreds of pips on GBP pairs. GBPUSD ,EURGBP and GBPJPY will be the major pairs to watch. This event could have an impact on the EURUSD, other currency pairs and could affect the capital markets, meaning will have an impact on the UK100 index (FTSE).
This could potentially be an unprecedented market event with very large market gaps.
How can this affect my trades and my trading account?
Extreme volatility and very low to almost no liquidity could be seen in the markets. This means that we can have long moments where there won't be any execution of trades until the markets stabilizes. Subsequently, we could experience huge market gaps. This can happen to all liquidity providers around the world from the largest banks to the smallest investors, as the liquidity of currencies can reduce to almost none.
Variable Spreads:
At moments when execution will be limited and in order to offer execution of trades, we will implement the use of variable spreads on the GBP instruments as opposed to the usual fixed spreads that we offer.
During these moments of extreme volatility, the spread has a potential to be significantly wider than regular spreads and could even widen a few hundred pips.
This means that there is a potential to open up trades that will trigger the Stop Loss upon opening the trade and you could lose more than the Stop Loss you set for that particular trade.
How can a YES vote affect the markets?
The UK has stated that if Scotland decides to go their separate ways from the UK, they will not agree to continue letting them use their own currency. This means that the Scots will have to bring their own currency or join the Euro. Analysts foresee that if Scotland votes YES, the GBP could have a major drop of even a few hundred pips! This is truly an unprecedented event that hasn't occured in the last decade or more.
How can a NO vote affect the markets?
On the other hand a NO vote, could be a market event that we are more familiar with, and could spark a movement which is much smaller. But high volatility should also be expected if this is the case.
What should YOU do?
Analyze your trades and exposure to the event and ask yourself what is the maximum risk that you are willing to take and what are the chances for that to happen. With this in mind,you should consider either joining the ride or staying out. Remember that staying along for the ride could mean that your trade could trigger a much lower Stop Loss than your selected SL. However, the market could skip your Take Profit and you can also profit from that.