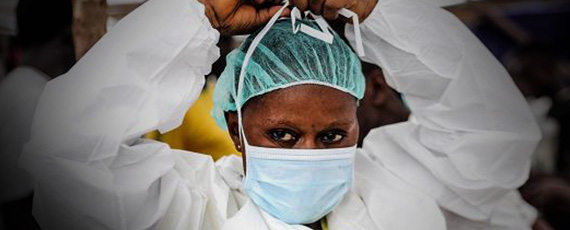 Ebola a long-term 'blip' for Africa investors
When Africa investment consultant Melissa Cook landed in Abuja last week, Nigerian airport workers took her temperature for signs of Ebola.
Purell hand sanitizer was ubiquitous around offices in Abuja and Lagos. Some of her international contacts postponed trips to the region; the bar at the Radisson Blu in Lagos' affluent Victoria Island section was mostly empty.
But Cook still had a packed schedule of meetings with local business people and government officials to drive power sector projects forward.
"Clearly people are aware of (the Ebola scare), but it's not something that's slowing anybody down," African Sunrise Partners managing director Cook said. "As far as Nigerians are concerned, business is full steam ahead."
Like Cook, American investors aren't panicked about the re-emergence of Ebola in Africa, at least in the long term.
The often-fatal disease has caused 1,422 deaths in Liberia, Guinea and Sierra Leone in recent months, according to the World Health Organization as of Aug. 20. Nigeria has also had five deaths from the disease, and a separate strain of Ebola was recently discovered in the Democratic Republic of Congo. The crisis has closed several borders, suspended some international flights and slowed economic activity, especially in the three hardest-hit countries.
But U.S. observers say the crisis will pass eventually and, despite immediate concern, Ebola has done little to change their increasing optimism about investing on the continent.
"We aren't seeing any decline in investor interest, and it has really been a non-issue as most investors are focused on the long term," said Tom Speechley, a New York-based partner at $7.5 billion private equity firm Abraaj Group.
Abraaj, which focuses on developing markets, has a wide portfolio of companies in Sub-Saharan Africa, including Nigerian healthcare players The Bridge Clinic and PathCare Nigeria, and telecom business Private Networks Nigeria.
To be sure, some businesses have been affected.
London Mining, for example, said Ebola could decrease production in the second half of the year at its iron ore facility in Sierra Leone, according to Reuters. ArcelorMittal also said that a mine expansion project in Liberia would be delayed because of the disease after hundreds of employees were evacuated, according to The Wall Street Journal. And Vale, Randgold Resources and AngloGold Ashanti have also moved workers in Guinea, according to Mining.com.
Liberia, Guinea and Sierra Leone are tiny economies. The 2013 gross domestic product was $6.2 billion in Guinea, $4.9 billion in Sierra Leone and $1.9 billion in Liberia, or about $13 billion combined, according to the World Bank. Nigeria's GDP, by comparison, was $522.6 billion and the U.S. GDP was $16.8 trillion.
"It's not going to affect long-term private investments—not from an area that's less than 1 percent of African GDP," said Richard Okello, a former partner at Bridgewater Associates who is now CEO of Sango Capital Management.
Sango, which manages $110 million and combines direct investing and allocations to third-party managers in Africa, is invested in a Nigerian consumer and food businesses which has been untouched by the Ebola fallout.
Okello said his mostly U.S. institutional clients are monitoring the situation in the short term but understand that it's a temporary phenomenon. "It's a blip," he said.
The short-term concern is still real.
"Over a long period of time, this will just be a blip because we are confident the situation will be contained. But until then, it's beginning to affect real commerce, real trade, real transactions and businesses," said Larry Seruma, portfolio manager for the Nile Pan Africa Fund.
Seruma said that some Nile investments, such as telecom stock MTN Group and a private investment in a Liberian travel agency have been negatively affected. But overall, Seruma said, there has been no noticeable fallout yet from Ebola in his portfolio.
"These things take time to fit through into cash flows. It will take some time to see this beginning to affect the bottom line," Seruma said. "It's a legitimate short-term concern."
The effect of Ebola is certainly difficult for a small, underdeveloped country like Guinea.
"Lots of investors and tourists who wanted to come to Guinea are not coming. It's certain there will be an impact on the Guinean economy," said Cellou Dalein Diallo, the former prime minister of the country who now leads a leading political opposition party.
Diallo, a presidential hopeful who is currently visiting the U.S., said he hopes the crisis will pass so that the country can continue working on political, legal and infrastructure reforms and improvements to spur international investment outside of the mining industry.
"You have to do that to attract investors so that people can contain their risk," he said.
Diallo cited the positive attention investment in Africa received during the U.S.-Africa Leaders Summit hosted by President Barack Obama in early August.
"We don't simply want to extract minerals from the ground for our growth; we want to build genuine partnerships that create jobs and opportunity for all our peoples and that unleash the next era of African growth," Obama said during an address to the conference.
The White House announced that it would expand its trade missions and provide $7 billion in new financing to promote American exports to Africa. U.S. companies also committed $14 billion in new deals, including Blackstone Group investments in African energy projects; General Electric infrastructure projects, and Marriott International hotel construction.
For all its destruction, Ebola could be an investment opportunity as well.
"Because large-scale health infrastructure is clearly not in place in a lot of Africa, then if anything, this has helped to highlight the potential for investment into the healthcare sector," said Ashley Bendell, head of U.S. distribution at investment bank African Alliance. "It hasn't really impacted people's fundamental view on the investment opportunities."
Speechley of Abraaj agreed.
"We've also long believed that upgrading Africa's healthcare access is both profitable and impactful," he said.
—By CNBC's Lawrence Delevingne.