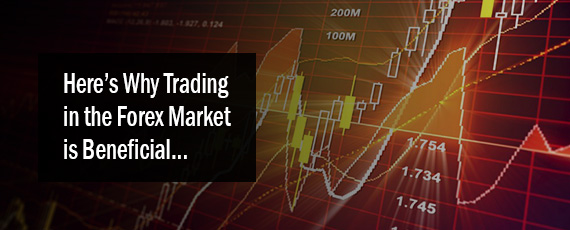 Earn as Much as the Bankers with Forex!
Conventionally, only major banks, multinationals and other entities who dealt in massive transaction sizes and volumes had excess to trade in the Forex market; leaving small, medium sized entities and other individuals to a less and a very limited access of business in the foreign exchange market. Time has changed now, as internet and technology has taken over the world. Trading in the Forex market has now become a convenient and suitable investment opportunity for everyone. Here are some advantages of trading in the Forex market:
You have access to the Forex market on all working business days except the weekends. This makes it easy for you to trade after you get back home from your routine job. You do not need to worry about the time-frame; enough buyers and sellers will be available to you to take the other side of the trade.

It is a highly liquid and effective market. When you trade in a market where you witness more than enough buyers and sellers, you can also have a room to buy and sell according to the prices, which are very close to the market. The currency market is considered to be the most liquid market.
Foreign exchange business is highly unpredictable. Without price fluctuations, there would be no trading opportunities. Let us take a simple example; if you are about to buy a share for $5 and the price does not fluctuate at all, there is no opportunity for you to make a gain.
Forex trade is cost effective related to transaction costs. Usually, currency transaction incurs no cost or commission fee. However, a Forex trader will bear the spread cost he needs to cover in taking position. Additionally, because of currency market's effectiveness, there is almost minimal or no "wastage" cost and this is the reason which makes individuals trade often at less costs.
High level of leverage can be used conveniently. When considering a lending option, you know that many banks or individuals would not lend you money for trading shares. However, in currency trading, it is possible because you have 'borrowed' a certain amount to trade. This makes easy for people to trade freely starting from a lesser sum.
Profitability: When you are in a stock exchange market, you make a profit when the share price goes up and when you have some speculation about share price going down, what you do is sell your shares. However, in a Forex market, it is easy for you to trade currency, which is going down so that you can make a gain when you think it is going to lose its value.
Price Gaps: For the people who have an idea about trading in other markets, you would probably know what constitutes price 'gaps'. Price gap takes effect when prices fluctuate from one price level to another without taking incremental steps. Price gaps bring risk and uncertainty for the traders in the stock market. But after you go through Forex charts, you will notice that there are almost minimal or no price gaps when trading in a Forex market.